Yea Me!! Yesterday I was featured in the Welcome Wednesday Blog Hop hosted by Kristin, Jaime and Melissa from Take it From Me.
Kristin, Jaime and Melissa have an awesome blog filled with giveaways, reviews and a great Wednesday Blog Hop! Check it out every Wednesday, follow the rules and you could be the next featured blog!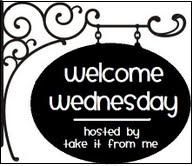 Thanks again Jaime and Melissa!!
Have a great Thursday....and by the way...we got about 15 inches of snow yesterday...I really need to move to Florida!