I have had so much fun the last couple days hopping around to different blogs, meeting new people and reading some GREAT blogs, I have decided I am going to make a week of it.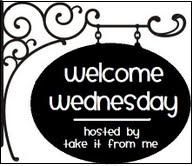 Have a great time hopping from blog to blog!!
And don't forget to enter my Barefoot Books GIVEAWAY! Click on the link to the right to enter to win a hard cover copy of Jack and the Beanstalk by Barefoot Books!